​
Partner with the Genealogical Society of Bergen County
The Ridgewood Opera House




1893-1932
The Opera House was the vision of the Ridgewood Hall and Park Association, formed about 1889, and was first called "Ridgewood Hall." The intention was to have a building "suitable for social and other pleasures." It was located on South Oak Street (now Van Neste Square) where the bus station is today.
Subscriptions were taken for building funds, but in the end a mortgage of $16,000 was required. William E. Stone of New York City was the architect, but local people were actively involved in the planning and construction of the building. J. B. Van Dien was the carpenter, Andrew Van Emburgh, mason, and Henry Hales, painter. Mauirce Fornachon was the supervising and consulting architect.
In 1893, hoping to facilitate the completion of the hall, the ladies of Ridgewood formed the Ridgewood Woman's Union to raise money by fairs and other entertainments to assist in furnishing the hall. The announcment of one fair describes numerous committees--decorations, entertainments, supper, printing, fancy table, "flowers, fruits and confectionary", lemonade, and finally cashiers. Not a lot different than today's gala fund-raising events!
The Opera House opened in May 1893 and served many functions over the years: live entertainment, home of the YMCA, movie house, meeting room, and home (in the tower) for Ridgewood's first fire alarm.
It
1927

Clara Bow starred in this black and white, silent film shown at the Opera House. In the movie a salesgirl with plenty of "it" pursues a handsome playboy.
The Opera House also featured live performances. To the right is a photograph of the Longfellow and Whittier Pageant on the stage of the Opera House. Photo by Aaron Aljian, a Ridgewood photographer
The Opera House was home to the Y.M.C.A. It's town housed the fire bell. It was the site of several other organizations during its life-time and was a good place to have your picture taken!
Red Cross Nursing Class, 1917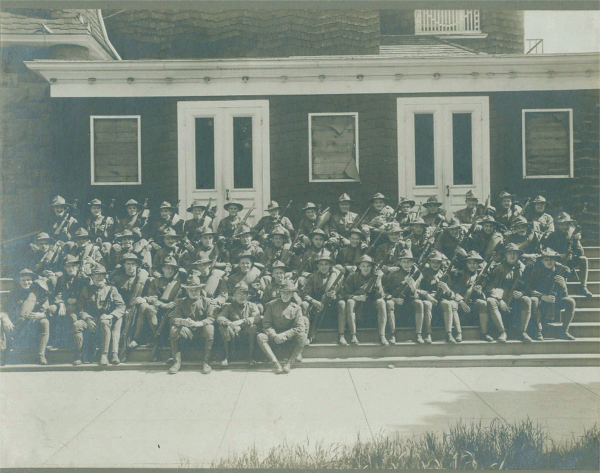 Company L of 5th NJ Infantry, 1917